For a few months now there have been murmurings about a new Twitter client about to burst onto the Blackberry scene. Their home page describes their app as a "disruptive" client for Twitter. Well, today I finally got some face time with Tweeteev and was able to see just how disruptive it really is.

To begin with, there's a landing page when you start up Tweeteev, or when bring it back up from background mode. If you run it in the background, it will show a count of the tweets, replies, and dms you missed. This is a nice touch for those that don't want to be notified every time they get an @ reply. However, there's no way (that I could see) to get a notification for new messages.




Once you select which messages you want to look at, you are presented with a nice interface with font that I find to be a smidge smaller than comfortable. Again, no way to configure this. But I do like that it tells you what app was used to post the message- I find that to be vital information when reading a tweet.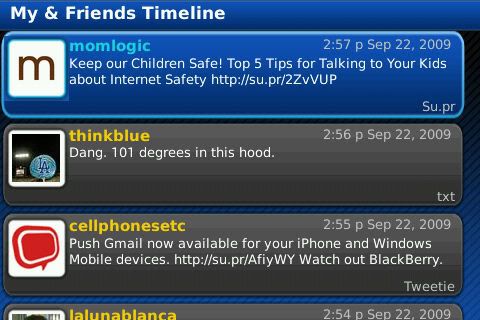 As a Blackberry user now, I've become very accustomed to my keyboard shortcuts. There's nothing I enjoy more than being able to hit "r" to reply to a message, or "f" to retweet while in SocialScope. Unfortunately, the way this works in Tweeteev is that you must first select the message, at which time you'll be able to use the keyboard shortcuts. Minor inconvenience, but not a dealbreaker.
Once you select a tweet, you get an overview of the user, with their full name, follower count and location. You can click on #hashtags and links for more information.




From this early look, I'd have to say Tweeteev is shaping up to be a strong contender in the Blackberry space. With its transition gestures and eyecandy, I see it pitted more against TweetGenius, especially if its going to be a free release (TweetGenius is a paid app with no evaluation period or trial version).