***Adult Content- Reader Discretion Advised***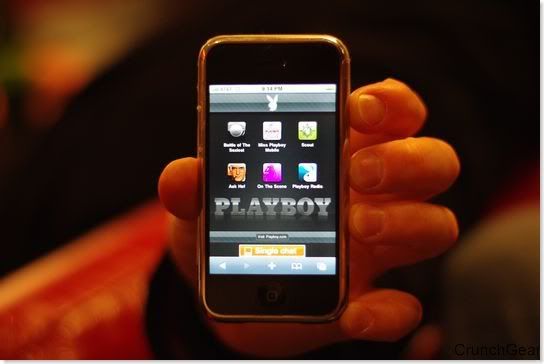 Let me just start by expressing my disappointment at the lack of mobilen adult resources for the ladies (seriously, where is Playgirl Mobile?). But now Playboy has launched iPlayboy, which is basically mobile Playboy formatted for the iPhone. They've even had a Miss Playboy Mobile contest ( which was apparently won by Amber James of Seattle). 
In August of 2006 I put out a
podcast on various ways
to get Porn on Your PDA. As a novice, I uploaded that podcast to Bolt.com, which seems to have since become defunct. Luckily,I saved the transcript:
Lets face it, most of us do it- you just never really hear anyone talk about it and I don't think I've ever heard anyone give instructions,either! I decided to do this topic because these days spamming has become so bad that if you even try to do a search of "porn" cross referenced with "pda" so many trojan (no pun intended!) and spam sites come up that its almost impossible to get any comprehensive information!
One of the assumptions I tend to make is that if you've got porn on your palm, you don't necessarily want the whole world to know it...which is why I'm always a bit confused by adult themed today screens and such.
Over the past years I've looked into discreet and interesting ways to experience porn on my device. The first recommendation that I would make is to use the password feature on your device. This should be a habit anyway, but if you work in a corporate environment, you definitely want that extra protection. Another cool thing I've seen is a special screen protector- it scrambles the image on your screen so that if viewed from an angle, nothing can be seen. This works great if there is a possibility of having someone peering across at your screen.
The first method is to convert your naughty pictures into a format you can easily view or watch on your device. My very first foray led me to Resco Photoviewer. This software from resco.net will allow you to create an album from your desktop which will consist of the pictures that you chose. The best plan is to create a folder on your pc and move all of your pictures into that location. This will make it easier to create your resco album. Resco albums are great because you can easily chose to encrypt them.

If you're okay with converting from your desktop, you can also create a powerpoint slideshow on your device and use your built-in slideshow viewer to watch.
The next is to use TCPMP to watch video clips. TCPMP is the premiere media player, and its free. Download it from the corecodec website and include all the available plugins to make sure you can play any media file thrown a it. Create a folder on your memory card and you can actually use programs like resco explorer to encrypt the folder.
There is also more and more software being created under the category of erotica. Strip poker games are extremely easy to come by, of course they are shareware. Adult games can be a fun way to entertain yourself when all you really need is a glimpse and not an outright ogle! But you'll have to get skilled at the games if you hope to see any skin.
Hubdog is a suprising source that will allow you to select channels with adult content such as Devil's Films- I'm talking real porn here, not the watered down teasers. The benefit of this is that it updated regularly- new content is only an update away. There are also several blogs that you can subscribe to and get images on your pda. The term subscription here is different from the conventional adult term- it simply means that you plug the address into your rss reader and the feed will be updated regularly.
And speaking of the world wide web, there are tons of sites that are optimized for mobile viewing. In the next few weeks I aim to compile a list and post it for those who are stumped. Hopefully this will be a group project... The list not the porn!
I updated a few of the links, and I was suprised to see that a lot of the products are still in existence.