If you're like me, then you're still figuring out this whole maze that is the Web. Perhaps through connecting to a broader audience on Twitter, or the freedom of Blogger but I feel like I've been learning much more about how to enrich my Webspace. 
As a mobile enthusiast, I have always wanted to have a nice clean mobile version of Mobigasmic. Windows Live Spaces has an automatically reconfigured mobile version of their pages, but it didn't quite come up to par. I wanted one that would work regardless of what browser you happen to be using. 
I found
MoFuse
, and it seemed to be exactly what I needed. It creates a mobile version of your website, and also has a nice emulator for desktops attempting to access the mobile site. So, Mobigasmic has a nice mobile version which can be accessed on any desktop or device. On your pda it will appear like this:
While from your desktop you'll see: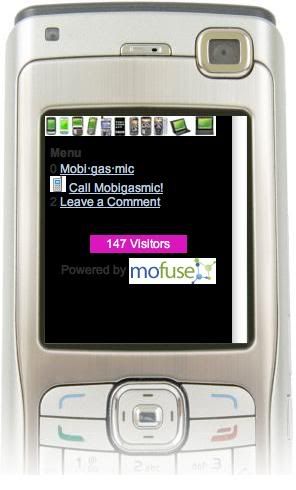 And be sure to add http://mobigasmic.mofuse.mobi to your mobile links. If you use Windows Mobile, remember you can add the bookmark on your desktop in your Mobile Links folder. And if you have a blog of your own, be sure to check out Mofuse to see if this free resource can't help you reach a broader audience.