Last week I had family to visit and my cousin brought her Blackberry curve with her. I was curious to see its capabilities...she's been going on about it since she picked it up 2 months ago. So, the first thing I did was to take some side-by-side shots of it against my UBi: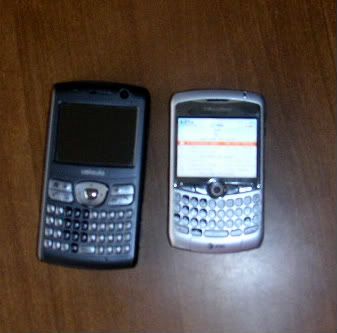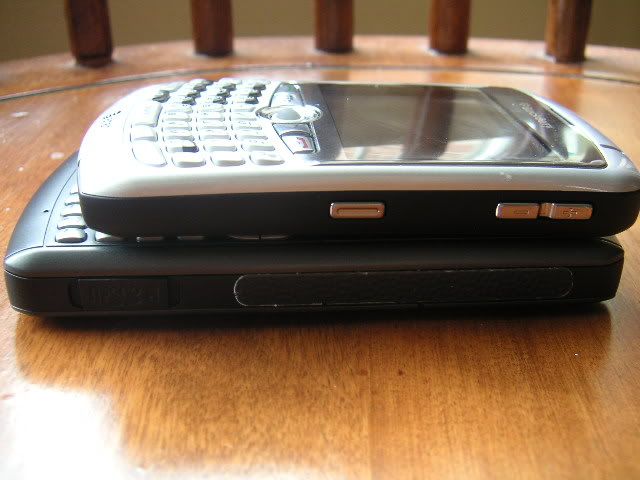 Its definitely smaller, although I felt it had the same kind of plastic-y feel that I haven't felt since the Treo 600. The screen is bright, but seems washed out-even my cousin had to admit that. I didn't enjoy the navigation on the device, but I can see how one would eventually get used to pressing the Blackberry button to get things done.

I asked her what she thought was the killer feature that would blow me away and she immediately launched her Facebook application. I was suitably impressed, even though I have since left Facebook. It gives instant notifications of messages received, and a few other selectable events. Since there isn't anything remotely as powerful for the Windows Mobile, I had to concede that it was definitely a power app.

The first thing she fell in love with (amongst many) was the Today screen on my UBi. The Blackberry main screen reminds me of the Palm launcher screen, except that it gives email notification/count and some other useful info. But as far as configuration is concerned, there is not a lot of leeway: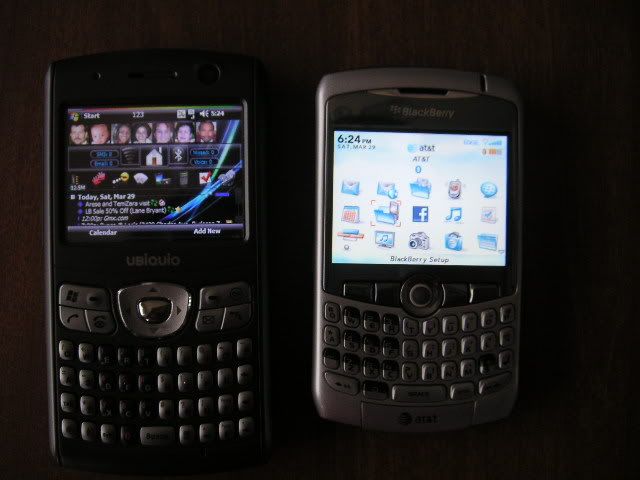 Next we discussed IM solutions. It seems that she hasn't found one that comes close to filling her needs. In addition, she is apprehensive about testing because she once had a mishap where the Curve ran out of space and deleted all her data. Huh?

Our browsers went head-to-head and I was pretty suprised that the BB Browser didn't seem that much faster than PIE. I'm talking about the rendering aspect here. The Curve did use the screen real-estate more efficiently:




One of the big mysteries of the Blackberry that I was able to solve is regarding the font. I have always hated the font of both the Blackberry and the Palm. Changing the font on Palm involves installing a third party app, which can cause problems in the system. The Blackberry does provide some nice builtin fonts and a simple way to switch.

While our testing was by no means extensive, I will tell you that there was a verrry interesting conclusion. As I typed this entry I got a text message from her- now back at home, she just made a purchase off eBay: her very own Windows Mobile Jasjar! Score- Another convert!